Astorre Notitm
Terroir, terroir, terroir. This is the key to the vast international success of Italian wines. Named after Alma founder's grandfather, the Astorre Noti collection offers a depth of tradition laid down over generations of judicious winemaking. It is in the heart of Tuscany, where the Sangiovese grape – the backbone of many great Tuscan reds – expresses itself to the full, thanks to ideal weather conditions.
Brunello di Montalcino, with its strict, limited territorial boundaries, is the line's most complex and complete wine, while the Riserva and Rosso di Montalcino boast enviable elegance. A balanced blend and elegant refinement in Chianti, Rosso di Montepulciano and Vino Nobile di Montepulciano.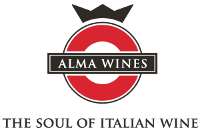 Astorre Noti is a partnership between Alessandro Berselli and Vecchia Cantina di Montepulciano, the largest and most historical "Cantina Sociale" in Tuscany and it is the backbone behind the Astorre Noti wines.
Tradition, modernity and sustainability mingle to create wines which represent the excellence of Tuscany.